Marks & Spencer is to reward regular shoppers with access to exclusive food and drink masterclasses and personalised money-off offers, under its Sparks members club scheme being unveiled this month.
The retailer said the ambitious move was based on its research, which showed that customers were fed up with being bombarded with "untargeted and irrelevant" generic deals and discounts, instead demanding tailored and priority offers as well as "money-can't buy" treats.
Its 2m "brand ambassadors" – predominantly shareholders and holders of its credit and debit cards – will be invited to apply for the card on Thursday online and via an app, before it is launched nationwide in store on 22 October.
The launch of Sparks follows the billions of pounds spent by the chief executive of M&S, Marc Bolland, on the redesign of products, stores, supply chain logistics and the firm's website to address decades of underinvestment.
Last year it switched the M&S website from an Amazon platform to one of its own, which it claims has given it better customer insight to help exploit its traditionally strong UK base.
The retailer already operates a points-based loyalty scheme for customers holding M&S Bank credit or debt cards. That scheme offers a point for every pound spent, in a similar way to reward cards operated by Tesco or Sainsbury's.
However, under the new scheme, members build up Sparks points every time they shop (in store and online), depending on how much they spend, and also for writing product reviews and shwopping, handing over unwanted clothing (which then goes to Oxfam) when buying brand new. Shoppers signing up to the scheme will earn 10 points for every visit to the till, as well as 10 for every £1 spent in stores.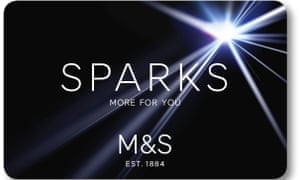 When registering, members give details of their hobbies and interests – such as fashion, sport and cooking – which determine the types of offers or discounts they receive, for example 10% off fresh flowers or a bottle of Prosecco to go with a meal deal. At the top end of the scale, 14,000 points will open up events like fashion shows and masterclasses, while 17,000 will enter card holders into draws that offer prizes such as a trip to a South African vineyard.
M&S – 131 years old and with 33 million UK customers and 852 stores – said it had taken a fresh look at loyalty and designed the new scheme in collaboration with more than 600 regular shoppers over a four-year period. During a recent three-month trial in south Wales, it recruited 100,000 members to test and refine the scheme, which also offers money (1p per transaction) to the members' chosen charities.
Patrick Bousquet-Chavanne, executive director of marketing at M&S, said the move represented an opportunity for store managers to reconnect with their local shoppers.
"Customers tell us they want to 'be part of something special' and that's exactly why Sparks is a club," he said. "As a member, you are more than a customer and you'll get the most from M&S – with tailor-made offers, priority access and invites to exclusive events. It's a two-way relationship: members tell us what they enjoy, select their own tailored offers and are rewarded for sharing their views."
But the launch comes as rivals simplify their own reward cards and schemes, including Morrisons, which recently announced plans to revamp its unwieldy Match & More loyalty scheme, and Tesco, which has unveiled a price-matching scheme offering an automatic discount at the till rather than vouchers.
Analysts warned that Sparks ran the risk of being too complicated. Sophie McCarthy of retail analysts Conlumino said: "Most of the market is going in the opposite direction, but the core M&S customer has a different profile and, out of most of the major retailers, is probably most likely to engage with the traditional, 'local shopkeeper' feel of the membership club – as long as they understand it.